EVENT VENUES AND FILM INDUSTRY LOCATIONS
The Port of New Orleans is an in-demand location with a variety of venues. If you're looking for a distinctive space to host a business or social event for 2 people or 3,500, welcome to Port NOLA! Whether you need an outdoor space along the river for a reception or concert, an auditorium for a meeting or screening, or riverfront or industrial location for film or television, we have what you need.
Wedding guests, business leaders, maritime industry professionals, and many others have all enjoyed events on Port property. You may have even been spotted a Port NOLA venue in such films and television shows as "21 Jump Street," "Déjà vu," "NCIS New Orleans," "Contraband," "The Curious Case of Benjamin Button" and "Terminator Genesis."
Port NOLA has diverse spaces available to rent at locations along the Mississippi River and the Inner Harbor. Most event planners and location scouts who have used a space at Port NOLA consider the working riverfront an advantage.

Port Admin Building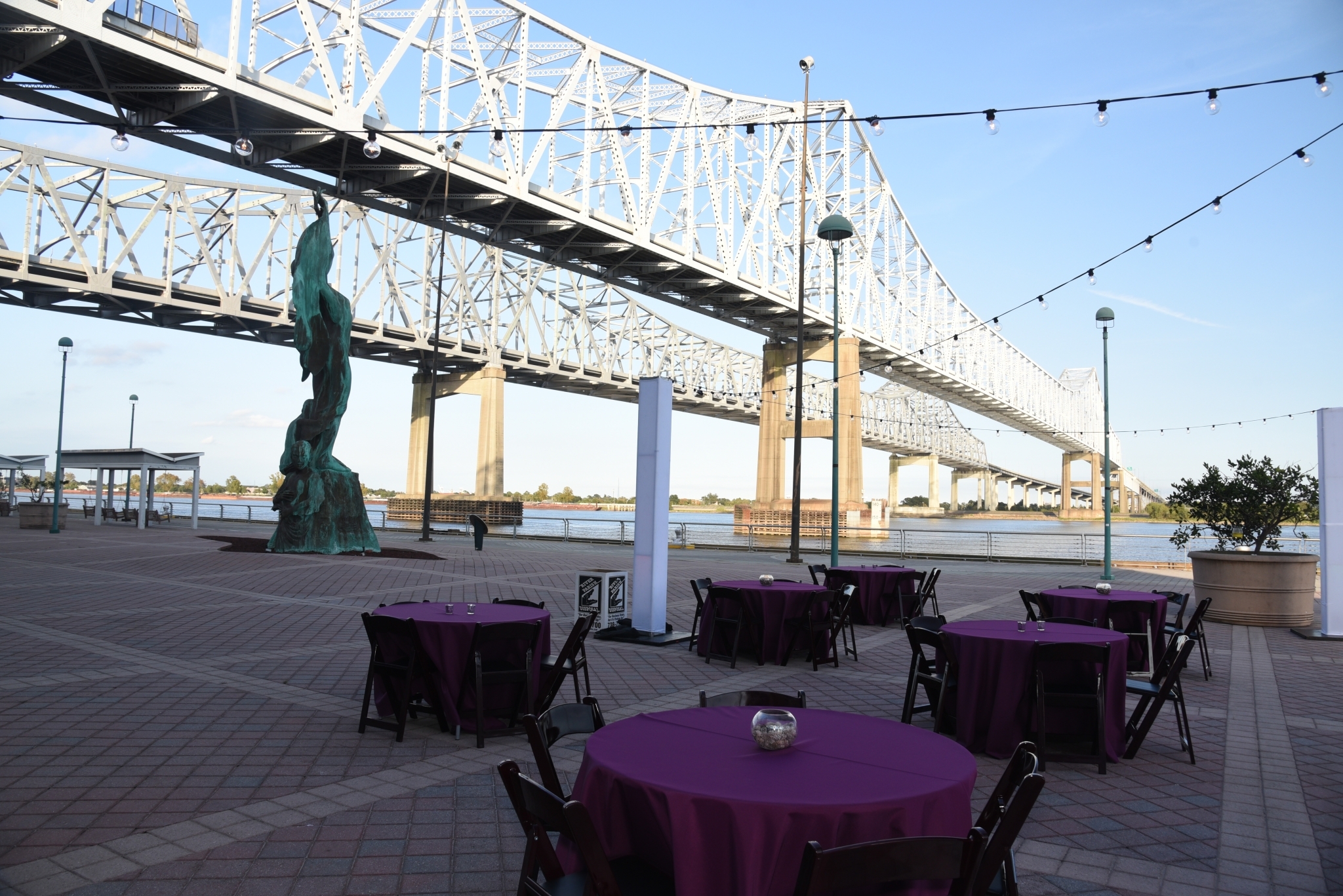 With magnificent views of the Mississippi River, the Port Administration Building offers indoor and outdoor space, along with a 207 seat auditorium and 25 seat conference space. Depending on your needs, the spaces can be permitted individually or together.
THE PROCESS
APPLICATION/TIMING: The Port of New Orleans has an event application form available by request from eventpermits@portnola.com. The application must be submitted fifteen(15) business days prior to the event.
If interested in renting a Cruise Ship Terminal, four months advance notice is required due to additional security, approvals and coordination.
PERMITS: Use of Port property requires a permit. All permits require documentation giving the party signing the permit the authority to legally bind the permittee, e.g., a certificate of incumbency.
INSURANCE REQUIREMENTS: At a minimum, permittee's insurance shall:
Name the Board of Commissioners of the Port of New Orleans as an Additional Insured;
Provide CGL coverage of at least $1 million (this amount may change depending on the nature of the event);
Provide Motor Vehicle Liability Insurance of $1 million (if vehicles will be on site);
Provide Workers Comp Coverage; and
Provide a Waiver of Subrogation.
For more information on events and renting Port NOLA venues, please fill out the form below.